Welcoming the Year of Cat in 2023, from January 1 to March 31, 2023, the Isuzu Vietnam Dealers support interest rate by offering up to VND 26 million for customers buying All New D-MAX and mu-X.
In the face of difficulties when bank interest rates are so high nowadays, with the demand of vehicle ownership for family and business purposes in the Spring of the Cat Year 2023, ISUZU accompanies customers "Support Interest Rate – Purchase Car Now" helping customers have the opportunity to own pickup trucks and SUVs more easily.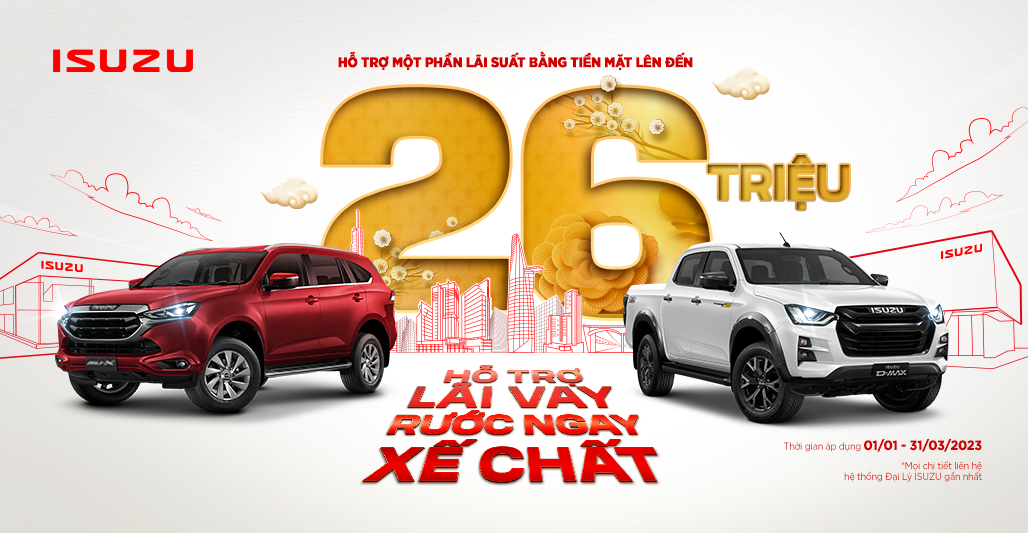 Details:
– Time: from January 1, 2023 to March 31, 2023
– Applicable to all models of All New D-MAX and mu-X
– Program content: customers who buy a car during this period, they will be supported bank interest rate for each model as shown in the table below:
Model

Promotion value (Without VAT)

VND/Vehicle

D-MAX Prestige 4×2 MT

14,000,000

D-MAX Prestige 4×2 AT

14,000,000

D-MAX Hi-Lander 4×2 AT

16,000,000

D-MAX UTZ 4×4 MT

14,000,000

D-MAX Type Z 4×4 AT

18,000,000

mu-X B7 4×2 MT

19,000,000

mu-X B7 Plus 4×2 AT

21,000,000

mu-X Prestige 4×2 AT

24,000,000

mu-X Premium 4×4 AT

26,000,000
ISUZU All New D-MAX – The Perfect Truck, durability on every journey
With multi-utility, D-MAX is a reliable business tool: a flexible means of transporting goods within the city and outstanding fuel economy, moreover, it has high-class design to help customers have a great experience with family.

All New D-MAX proudly passes rigorous tests and meets the ASEAN N-CAP 5-star standard, this "The Prefect Truck" has many outstanding advantages:
– Exterior with elegant design, but also very strong and sporty: ISUZU D-MAX's strengths are its smooth lines and sportiness. Especially, a combination of organic and inorganic shapes which create a powerful and attractive appearance.
– Sturdiness and modern interior – high-quality facilities: ISUZU used soft material with stitching for each part of the interior, and satin chrome for the parts that are frequently touched, it will bring the high-quality feel on a pickup truck. At the same time, the design focused on easy use, comfort and overall flexibility of function.
– Diesel engine for optimal fuel economy: Most customers' evaluation of the ISUZU vehicle is fuel-efficient because ISUZU's innovative philosophy always comes with the practical needs of customers. Furthermore, ISUZU conducted repeated tests in harsh environments with a heavy load to make sure the engine proved efficient in any and all scenarios.
– Smart technology – Outstanding safety: modern technology and safety are the important criterion that ISUZU sets for D-MAX and mu-X. Therefore, customers are completely assured when using ISUZU LCV. Thanks to the ADAS – Driver Assistance System, ISUZU D-MAX has received many positive reviews from customers.
All New mu-X – Multi-utility for every experience and passion
ISUZU All New mu-X is famous for its durability, sturdiness, modern & sporty appearance, high ground clearance is suitable for moving on all terrains, even though it is rough. Welcoming the Cat Year with All New mu-X with preferential prices is a smart choice for personal and business needs of customers.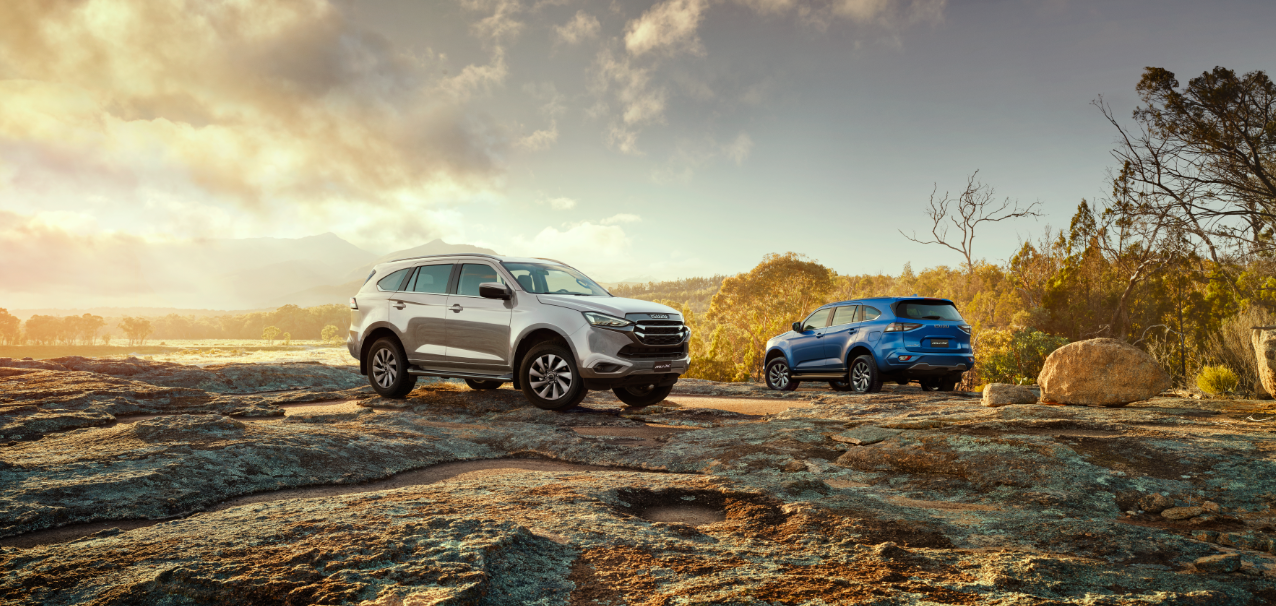 The appearance of All New mu-X is elegant and sophisticated, the interior is very spacious, leather wrapped seat, 8-ways power driver seat, mu-X integrates many modern technologies to bring comfort to the customers on every journey.
ISUZU is confident in quality and offers customers who own Isuzu LCV the most attractive sales & after-sales policies in the segment, warranty of 5-year or 200,000km (whichever comes first). With a nationwide network of sales, after-sales service and genuine spare parts, a team of technicians who are well-trained according to global standards, promises to bring great satisfaction to customers.
Immediately impressed by the appearance, modern interior, assured about the engine, durability and outstanding economy of All New D-MAX and mu-X, let's contact the Isuzu Vietnam Dealers today for the best price and the most dedicated advice.
See more details of product at: https://isuzu-vietnam.com/lcv-home-vn/
Isuzu dealer selling SUVs & pickup: LINK