The Northwest is a breathtaking destination that attracts travelers and young people to explore and check in, ISUZU PARKSON SHOWROOM has recreated a "Miniature Northwest" of the ripe rice season in the heart of Saigon, creating an impressive and interesting space to experience with unique cultural features, what are you waiting for, come check-in now!
Join [PHOTO CONTEST]: EXPLORE THE NORTHWEST IN THE RIPE RICE SEASON AT ISUZU PARKSON SHOWROOM  to have interesting experiences and the opportunity to win attractive prizes and gifts from ISUZU.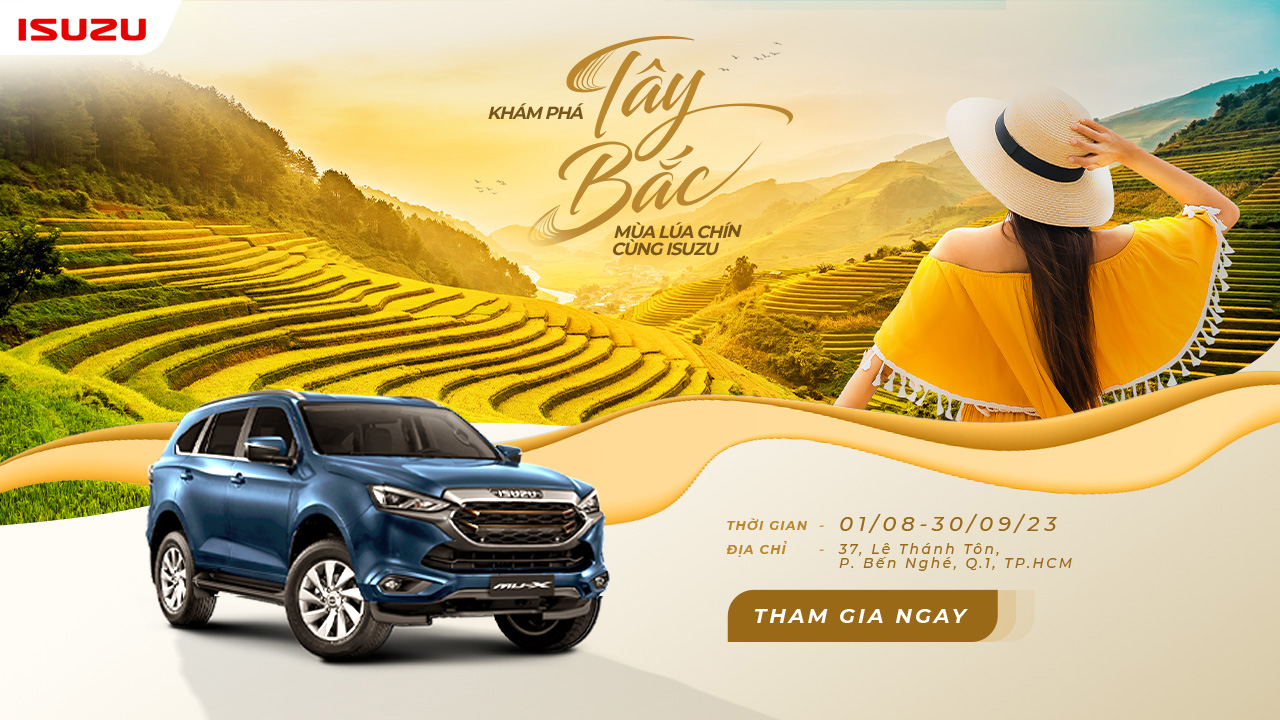 HOW TO JOIN:
Step 1: Take photos/videos to experience the Northwest atmosphere of the ripe rice season at ISUZU PARKSON SHOWROOM
Step 2: Post photos/videos on your personal Facebook account with some content sharing about your experiences at ISUZU with hashtags: #ISUZU #ISUZUPARKSON #MINIGAME and call for interactions
Step 3: Like Fanpage Isuzu Việt Nam – Like Post of photo contest on Facebook Fanpage @IsuzuViệtNam and tag 1 friend at comment box. 
ISUZU will calculate points and award 10 players with the highest number of interactions (Reactions, comments, shares) on the post on the personal page and fully complete the participation steps. 
📝HOW TO CALCULATE INTERACTIVE POINTS:
1 emotional drop (Heart, Like, Wow…) = 1 point

1 Comment account = 5 points 

1 share account (Share) = 10 points
PARTICIPATION TIME: From August 1 to September 30, 2023 from 10:00 to 22:00 
RESULTS ANNOUNCEMENT: 09/10/23 
LOCATION: ISUZU PARKSON Showroom – 37, Le Thanh Ton, Ben Nghe, District 1, HCMC
Make an appointment to visit the showroom and experience it.
NOTE:
– Each account participating in the contest can only use 1 post with the highest interaction (no limit on the number of posts posted)
– In case the contestant has the same number of points, ISUZU will give priority to the player who joins earlier.
– Images/videos used in the post must be images/videos in the event at ISUZU Parkson Showroom to be considered valid.
– Images/videos must be legally owned by the players. Players are responsible for all disputes, claims, lawsuits related to copyright, and image/video ownership.
– ISUZU does not accept posts of virtual accounts used to hunt for prizes. ISUZU has the right to remove participants who show signs of fraud, do not respect the rules of the program, or create not good effects on the brand without prior notice.
– ISUZU does not accept having any 3rd party upload the images/videos in the comments and use them for other purposes.
– ISUZU has the right to select, edit and reuse the images/videos posted in the contest for the purpose of promoting and communicating without having to pay any additional costs and without notice of the use this for players.
– ISUZU's decision regarding the contest (disputes, complaints, etc.) is final.
Good luck!